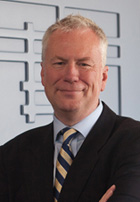 David Nicholl was formally appointed Corporate Chief Information Officer on November 26, 2008. David was acting as the Corporate Chief Information Officer since May 2008. Prior to that, he held the position of Corporate Chief of Infrastructure Technology Services, within the Ministry of Government Services, since February 2006. He was responsible for leading the establishment of the government's new Infrastructure Technology Services (ITS) organization, establishing its business and service delivery model; and implementing key e-Ontario infrastructure consolidation projects.
Prior to joining ITS, David Nicholl was the Chief Information Officer at the Transportation Cluster (TC). David joined the TC in 2002, returning to the Ontario government where he worked as a programmer/analyst during the early 1980s.
Previous to the TC, David worked at Oasis Technology – a leading global provider of Unix/NT-based ePayment systems to card associations and financial institutions – where he was Senior Vice-President of Global Consulting and Delivery. In this role, David was responsible for the delivery of the company's products to new customers and for the support and training of Oasis's approximately 150 clients in 70 countries.
David also spent seven years in Bermuda and the United Kingdom where he worked for HSBC (Bank of Bermuda) as Vice-President and Director of Information Technology. His responsibilities included the creation of a new IT strategy to support the introduction of an electronic servicing capability for the Bank's global customer base; the development of a resources plan to reduce IT operating costs, and the development and support of all business applications in a 7/24 environment. Previously, David worked at the Toronto Dominion Bank as a Systems/Project Manager.