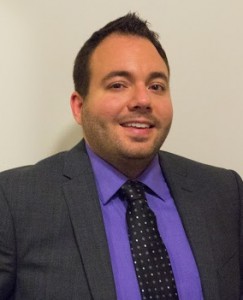 Brandon Zoras is an education officer of the 21st Century Teaching and Learning department, Ministry of Education, science teacher at the Toronto District School Board (TDSB) and Master of Education graduate in the Urban Education cohort at OISE/UT, where he studied ways to better engage youth in science.
During his years of teaching, Brandon has been exploring ways to utilize technology and problem-based learning, in order to break down barriers and engage students. He connected students with Ontario Institute For Cancer Research scientists via video calls, facilitated student-led primary research with OISE professors, and arranged discussions in current environmental and scientific issues, and indigenous knowledge in science. Brandon has also been collaborating with Joseph Romano to help students think critically about their role in technology. Last fall, they hosted EdAppHack, a students-led hackathon at MaRS over the ORION network, which flipped the roles of students from app users to app creators.
Brandon is also collaborating with local Toronto Educators and Artists to break apart standard pedagogy by using hip hop in education, and helped publish Rhymes To Re-Education, a critical pedagogy book.
Follow him on Twitter @brandonzoras