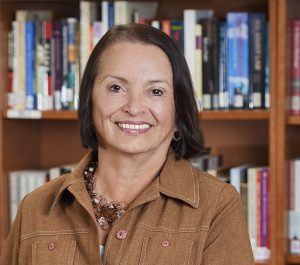 Session: Watch Your Language
Rebecca Jamieson, Tuscarora, is the President-CEO Six Nations Polytechnic, mother, grandmother, sister and auntie. Six Nations Polytechnic (established 1993) is centre of excellence for Indigenous community-based learning at the post-secondary level. Rebecca has been involved at all levels of First Nations education in a wide range of roles including teaching; counselling; policy, curriculum and institutional research and development; teacher education; administration, governance and jurisdictional negotiations. In Ontario, Rebecca has also been actively involved in public postsecondary education, serving as the first Executive Director of the College Standards and Accreditation Council (CSAC), and on the Board of Governors for several Ontario Universities and Mohawk College.
Rebecca holds an undergraduate degree in psychology and philosophy from Wilfrid Laurier University and a Master of Education from the University of Toronto. Rebecca is a member of the College of Teachers and holds Supervisory Officers Qualifications. She is trained in mediation and alternative dispute resolution and is a Graduate of the Carver Institute, Policy Governance. In recognition of her contributions in Indigenous education Rebecca received the Order of Ontario (2008); was appointed Distinguished Fellow, Mohawk College (2015), received an Honorary Doctor of Laws, University of Western Ontario (2015) and an Honorary Doctor of Laws, Wilfrid Laurier University (2017).